Shipping Policy

Carrier:
We use the US Postal Service to ship all of our orders. Please make sure that the address you provide is recognized by the US Postal service and is correct and is set up to receive mail. Some vacation homes or hotels do not accept US Postal Mail and the parcel will be returned to us.

Packaging:
We use minimal packaging to conserve earth's resources. Our products are packed directly into poly mailers for storage at our facility. The 42 inch long bumpers do not have extra inner clear bag packaging.

Processing time:
We ship orders 6 days a week and on all holidays except New Years Day, Thanksgiving and Christmas. We ship orders the same day if your order is received by Noon Eastern Time (M-F) or 9am on Saturday. If you have a last minute order, it is best to go ahead and place the order. Then email us with your request to rush the order. We can always cancel the order if it does not ship same day.

Hawaii & Alaska:
Shipments to Hawaii and Alaska are limited to 8 bumpers (21-24 inches) or 4 bumpers (42 inch) and must ship with Priority Shipping Method in a vacuum pack. Orders that exceed this quantity will be canceled. You will need to place multiple orders for large quantities. Standard shipping to Hawaii with USPS can take several months, so we do not use this method.

Calculation:
Our rates are based on weight in pounds. The weights are listed right after the product name so that you can add up the weight and see when you will move up into the next rate level. The shipping charge is displayed in the shopping cart checkout screen as "Estimated Shipping". This is the actual shipping charge. To edit your Shipping Method and Destination, click on the "Change" button below the Checkout and PayPal buttons.
USA Standard Shipping 2-9 days
0 - 1.0 lbs. $ 3.00
1.1 - 2.0 lbs. $ 6.00
2.1 - 3.0 lbs. $ 8.00
3.1 - 4.0 lbs. $10.00
4.1 - 5.0 lbs. $12.00
5.1 - 6.0 lbs. $14.00
6.1 lbs. and up $16.00

USA Priority Shipping 1-3 days Map
0 - 1.0 lbs. $ 5.95
1.1 - 2.0 lbs. $ 7.95
2.1 - 3.0 lbs. $ 9.95
3.1 - 4.0 lbs. $11.95
4.1 - 5.0 lbs. $13.95
5.1 - 6.0 lbs. $15.95
6.1 lbs. and up $17.95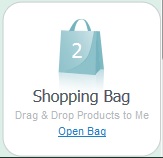 USA Express Shipping 1-2 days
Our Express rates are based on the USPS rate tables. Please add products to the shopping cart and click on the Shopping Bag Widget in the bottom right corner of your screen. Make sure to select United States in the drop down menu and enter your ZIP code, otherwise the Express option will not be displayed.
What if tracking says "Package Delivered"?

If your package tracking info says that your package has been delivered, but you have not received it, let us know right away so that we can contact your post office immediately.
International Shipping
Our rates are based on the USPS International rate tables. We offer International Standard (5-30 days) and International Priority (4-14 days). These are not guaranteed times as we have no control over the package once it enters your country and processes through customs.

If a package is lost and does not arrive within 30 days, our shipping insurance will cover the cost of the product. A claim can be made 40 days after the shipping date and once a brief online form is completed by you. We have very few problems with countries where the main language is English (Latin alphabet). We can no longer refund the shipping amount paid for lost packages to countries that do not use English/Latin alphabet.

International orders are not eligible for our Free Prepaid Return Shipping Label.

International Standard has a maximum weight of 4 lbs. If your order is greater than 4 lbs., you will need to divide it into separate orders for the Standard rates to display.

An easier way to view rates is to add products to the shopping cart and click on the Shopping Bag Widget in the bottom right corner of your screen. Make sure to enter your country, state and post code in the drop down menu.