Magic Bumpers have a non-slip surface that stays in place when set directly on a fabric mattress. It is important that the bumpers sit directly touching the mattress underneath all bedding and the mattress pad.

The foam wedge is 5 inches wide and 5 inches high. They are high enough to keep most children from rolling out of bed, but small enough to fit under a standard sheet.
The bumpers fit any size bed because you can purchase the length you need or easily cut off extra foam with an electric knife. It is easier to make the bed since the bed covers go over the bumpers.
Two-piece bumpers function as one piece after they are placed under the bedding. They are easier to store and transport than a longer one piece bumper.

If you need the bumpers on both sides of the bed, it will take up about 12 inches of space. A twin bed will be reduced to a 26 inch wide sleeping area which may feel cozy or cramped depending on the child's preference. The large photo on the home page shows a twin bed with bumpers on both sides.

The bumpers may cause the fitted sheet to rise up the side of the mattress a bit. This will depend on the depth of your mattress and the size of the pocket on your fitted sheet. This should not cause a problem because the bumpers are placed underneath the mattress pad which will minimize any movement of the bumpers.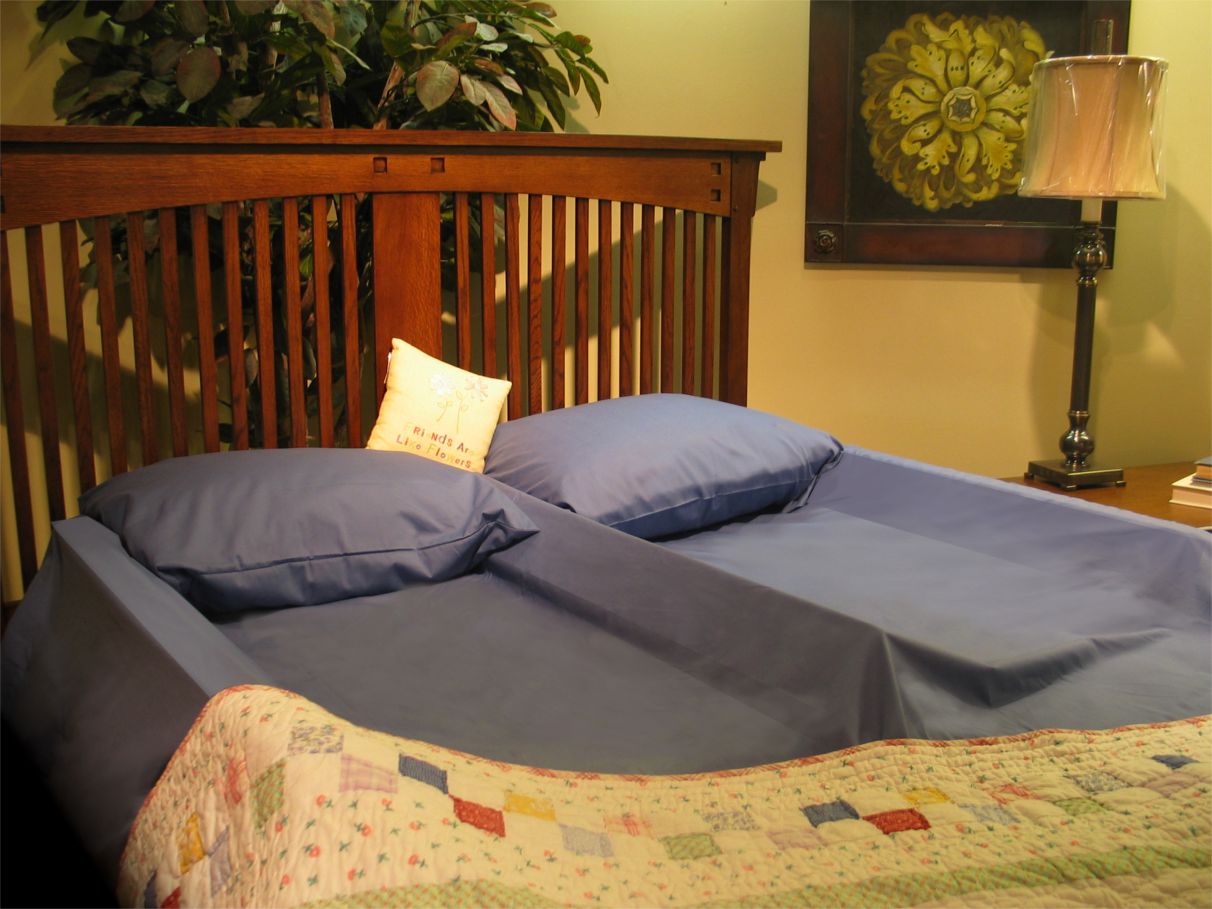 The bumpers can be used as a bed divider to separate two children in a bed. Place the bumpers with the angled side facing down and underneath the fitted sheet in between the sleeping areas.
The foam is comfortable and easy for little ones to climb over. Our customers say it best, so check out the testimonials.
Warning Label required for all portable bed rails manufactured after August 29, 2012: WARNING: SUFFOCATION AND STRANGULATION HAZARD Gaps in and around bed rails have entrapped young children and killed infants. NEVER use with children younger than 2 years old. Use ONLY with older children who can get in and out of adult bed without help. NEVER use in place of crib. NEVER use unless bed rail is tight against mattress, without gaps, and at least 9 in. from headboard and footboard. Do not fill gaps with pillows, blankets, or other items that can suffocate children. NEVER use on toddler bed, bunk bed, water bed, or bed with inflatable mattress. Use ONLY on adult bed.
In compliance with the new specifications of the CAL 117-2013 bulletin, this product contains does NOT contain fire-retardant